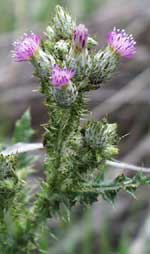 Connie Jensen-Blyth, Supervisor
320 West Main Street, Rm 3
Grangeville, Idaho 83530
208-983-2667
cjensen-blyth@idahocounty.org
Administrated by the Office of the Board of County Commissioners
While Idaho County is one of the most beautiful and diverse in Idaho, it's assets also provide an environment very conducive to exotic plant growth. We have the largest land area of any county in the state, allowing plenty of space to grow invaders. We have precipitation variation from less than 10 inches per year to over 60 inches in some areas of the county. We also have elevational differences from over 8,000 feet to under 1,500 feet above sea level. And, our soils vary from sand to clay.
This spectacular space and environmental diversity allows us the ability to grow almost any weed in the world.
In addition to the ecological environmental assets for weed growth, Idaho County has become an increasingly important destination for travelers and recreationists. This influx of visitors is often an important introduction mechanism for invading alien weed species.
The Idaho County Weed Management office is charged with providing solutions for the weeds we have, as well as for prevention practices for the weeds that are being introduced. One of the solutions to these challenges has been the formation of Coordinated Weed Management Areas in the county.
Click here for 2018 No Spray Agreement
Meet Our Staff
Connie Jensen-Blyth:
Connie is the supervisor of the Idaho County Weed Management program.  She started with the weed program in 2015.  Her work includes budgeting, personnel  management, and program development for the county's weed effort.  Connie can be reached by calling (208) 983-3284 or by email at cjensen-blyth@idahocounty.org
Alana Lyons:
Alana serves as the Office Manager and Receptionist for the office.  Alana provides assistance with reporting and budgeting as well as coordinating the mailing of information. She directs client calls and "No Spray Agreements" as part of her duties.  Alana can be reached by calling (208) 983-2667 or by email at idaho@uidaho.edu
Leon Slichter:
Leon has been with the department since 1985.  He brings a wealth of experience with the land and the people of the Salmon River and Joseph Plains country.  Leon heads our field crews in these areas, as well as the aerial application efforts, county wide.  Leon proves you can "teach an old dog new tricks",.or in his case "teach a horseshoer how to run a computer!"  His mobile phone is (208) 983-3284. Shop phone is (208)983-5246.
Alvin Dormaier:
Alvin comes to us from Washington State University with a degree in Weed Science.  Alvin was raised on a dryland farm/ranch near Heartline Washington.  Alvin brings a number of technical skills to the job, but most importantly, a tremendous commitment and work ethic to his job.  You can contact Alvin at the shop, (208) 983-5246 or mobile (208)983-3123.