Commander – Matthew Bybee
208-983-1123
Administrated by the Office of the Idaho County Sheriff
Visiting Hours:
Wednesdays and Fridays 1:00 PM – 4:00 PM
Saturday 3:00 PM – 6:00 PM
Mission Statement
The purpose of our facility is to lawfully detain individuals charged in the violation of State and all applicable laws. All inmates entrusted to its care are treated fairly and justly without regard to their race, gender, religion, age or social status. The health, safety and well being of these individuals are absolute. This is maintained by providing a nutritional diet and adequate medical care. The Idaho County Jail recognizes its responsibility to the citizens of this community to operate the jail facility in the most cost effective manner possible.
Jail Facts
The Idaho County Jail Facility was built in 1954. One Chief Jailer and seven Detention Officers currently staff it. The jail at this time houses a maximum of 11 individuals (male and female). Minimum jail time is one day up to the maximum time of 365 days. The average number of inmates per day presently is 18. The average cost to house an inmate is $138.00 per day. Idaho Code 20-607 requires Idaho County to bill inmates $25 per calendar day to offset the costs involved for their incarceration.
VINE
The Idaho County Jail is a participating member of Victim Information and Notification Everyday. (VINE)
VINE is a method that victims and others may use to register and be notified when an inmate is released or transferred.
Click this link to be transferred to the VINE website where you can register for notifications.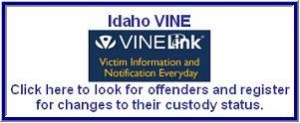 CitePayUSA
Idaho County is now participating in CitePayUSA. Go to www.citepayusa.com to post bond for someone using a credit or debit card.