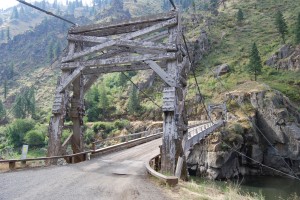 Gene Meinen, Supervisor
4682 Highway 13
Kooskia, Idaho 83539
Phone: (208) 926-4471
Cell: (208) 983-8763
Fax: (208) 926-7721
Email: icroads@qroidaho.net
YOUR ROADS ARE OUR PRIORITY!
With 17 employees we maintain and/or upgrade 476 miles of Idaho County roads reaching from the south Warren-Burghdorf, east Elk City-Dixie, west Joseph Plains and north Kooskia- Kamiah areas.
The main shop in Kooskia is located one mile South of Kooskia on Highway 13. It houses the administrative office with Gene Meinen, Road Supervisor. The major mechanic operation for both the Road Department and the Sheriff's Department are under the same roof.
For concerns regarding your roads contact us:
Kooskia road foreman Daryl Kinzer – 208-926-4471
Riggins road foreman Joel Chambliss – 208-628-3608
Elk City road foreman John Enos – 208-842-2280.
---
JOB OPENING: 
Idaho County has an opening for an Automotive/Heavy Equipment Mechanic for the Road Department located in Kooskia. This is a full-time (40 hours/wk) position with full county benefits. Minimum requirements include verifiable 2 years' experience and the ability to pass a drug test. Additionally, the successful candidate must have own tools. A valid CDL is preferred. Wage range is $16.05-$17.34 per hour DOE. Please complete the generic employment application found by CLICKING HERE. Please contact Supervisor Gene Meinen at 208-926-4471 for more information. Applications should be sent to Idaho County Road Dept., 4682 Hwy 13, Kooskia, ID 83539. Deadline is October 19, 2015. Idaho County is an Equal Opportunity Employer.
JOB DESCRIPTION
This is a full time position performing journey-level maintenance, repair and overhaul of gasoline and/or diesel powered vehicles, road equipment and related hydraulic, electrical, and electronic component systems; fabricate, install and retrofit related ancillary devices; perform related work. Typical duties: diagnoses mechanical, electrical, electronic, and hydraulic problems in vehicles and equipment; estimates costs of repairs, labor, and parts; repairs, overhauls, and rebuilds gasoline and/or diesel engines, power trains, chassis, power plants and related mechanical and hydraulic systems; troubleshoots, designs, fabricates, and installs electronic controls, hydraulic systems, and electrical circuits; removes, repairs, or rebuilds component parts such as starters, alternators, generators, and carburetors; diagnoses and repairs heating, cooling, and emission systems; performs preventive maintenance; mounts and balances vehicle tires, repairs and changes truck and grader tires; makes front-end repairs by replacing steering and suspension parts and aligning; uses specialized devices such as electronic analyzers, scopes, pressure gauges, micrometers, and calipers; operates equipment such as hydraulic and mechanical presses; rebuilds, repairs, or services air-conditioning systems, small gasoline engines, power saws and mowers and other motorized equipment; will operate equipment such as welders and cutting torches, constructs or fabricates mechanical parts and tools, welds equipment and parts, fabricates devices; cleans and maintains equipment and shop area; may repair damaged bodies and frames, paint vehicles and install windshields and window glass; trains others in the overhaul, repair, and maintenance of vehicles and equipment; performs inspections and operates vehicles and equipment to evaluate capabilities, repair work accomplished, and compliance with safety regulations. Verifiable 2 years' experience required, valid CDL preferred. Applicant must pass drug test. MUST HAVE OWN TOOLS