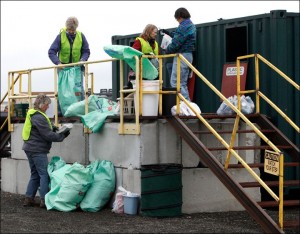 GRANGEVILLE:  Grangeville site open every Saturday from 9 a.m. to 11 a.m.  The Grangeville site is located on Day Road. Turn off Highway 95 onto Grangeville Truck Route. Day Road is
immediately north of the intersection of Highway 95/Grangeville Truck Route on the west side of Day Road.
KOOSKIA:  Kooskia site open Saturdays from 10 a.m. to 12 p.m. and Thursdays from 4 p.m. to 6 p.m. (Winter hours are 3:30-5pm)
The Kooskia (Clearwater Valley) site located at the bottom of the Winona Grade Rd, just west of the South Fork
Clearwater and the RR tracks, across from the Avista power plant. Take B Avenue off Main Street (Hwy 13), cross the river, turn left one block and follow the signs. It is across from the Kooskia Medical Clinic. See the map below.
COTTONWOOD:  Cottonwood site open every Saturday from 9 a.m. to 11 a.m.
The Cottonwood site is located on Broadway across from Columbia Grain and Primeland.
_________________________________________________________________________________________
NEW E-Waste Program at all Idaho County Recycling Sites. 
__________________________________________________________________________________________
RECYCLING TIPS:
Separate recyclables by category
PLASTIC BOTTLES & JUGS/NO CAPS:  Container top opening must be smaller than the bottom, must be RINSED and lids discarded. Labels may remain attached.  (NO plastic bags, plastic clamshells, styrofoam or other plastic trash)
TIN & ALUMINUM CANS:  RINSED with labels removed. Lids can be attached, but no loose lids.  (NO aluminum foil, aerosols, paint, hydrocarbon, fuel, pesticide or herbicide containers.)
NEWSPAPER, INSERTS & MAGAZINES:  Newspaper and inserts, magazines, catalogues, paperback books and phone books. We will take hardback books if boxed separately.
CARDBOARD:  Cardboard (all types), brown paper sacks, cereal and food boxes, beverage cases, cardboard tubes and egg cartons. Box tape and staples are okay. Boxes must be flattened.  (NO wax lined boxes foil or styrofoam)
WHITE & COLORED OFFICE PAPER:  All office paper, junk mail, labels from cans and other kinds of paper.  (NO gift-wrap, wax paper, paper towels, tissue or other trash.)
IDAHO COUNTY RECYLING CANNOT ACCEPT GLASS OR TRASH!
__________________________________________________________________________________________
Volunteers Make Recycling Work
ICR volunteers need your help to continue this successful program. To obtain the highest dollar value for recycled materials, items MUST be clean and sorted before they are brought to recycling sites.
Volunteers will be available to assist those who are unable to unload their recyclables.
Please bring your recyclables to a site in a reusable container, cardboard box, paper bag or check out our BAG-IT system.
HELPFUL LINKS:
E-Waste can be brought to Lewis-Clark Recyclers in Lewiston, 

Lewis-Clark Recyclers, Inc. 0334 2nd Street, Lewiston, Idaho 83501, Phone: 208-746-1187 M-F: 8 am to 5 pm

Shredding Contracts are available from Lewis-Clark Recyclers, Inc. (Shredding contracts and E-Waste are credited to Idaho County Recycling)
Businesses generating large amounts of cardboard can use a keyed compactor system in Grangeville. For more information, please contact: Janie Fluharty 208-983-2843
Volunteers! We love recycling and we love new volunteers. If you want to join in on the fun, please click or call the numbers listed.
______________________________________________________________________________________
We love recycling and we love new Volunteers. If you want to join in on the fun, please contact:
Margaret Myers in Grangeville 208-983-1563
Liz Clark in Kooskia 208-926-7231
Jay Hinterlong in Cottonwood 208-983-2843
Questions? Please contact Janie Fluharty 208-983-2843
Remember to Reduce, Reuse, Recycle