To request your ballot online
Please click below!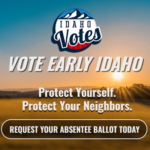 To Print out a request
Click Here!
Step 1: Register or Update Registration
Step 2: Request a Ballot
Online at idahovotes.gov or Call Idaho County Elections
Complete the form you received in the mail
Step 3: Submit Your Request
Online at idahovotes.gov
Return by mail, email or fax to Idaho County Elections no later than May 19th
Leave in the Drop Box at the Courthouse located inside the Sheriff's Office Entrance in back (West Side of Building)
Step 4: VOTE!!!
You will receive your ballot in the mail
Follow the instructions carefully
Return by mail in the postage paid envelope provided no later than June 2nd.  Must be in by 8:00 pm!!
Accessibility Concerns:
Those voters with disabilities to please contact us at (208) 983-2751 in order to discuss accommodations.